Test the waters with this pack and see the positive reactions roll in!
24 x 700ml Cans (3 flavours)
Go viral with Tempo:
Hop on the trends
Elevate your online presence and engage with your audience by embracing the power of social media. 🔥
With multiple videos on TikTok and Facebook reaching millions of views, we know what our audience want to see.
With our aesthetic drinks, we believe that your shop could be next in line to go viral!
Exclusive first-time price:
Available for partners only
Summer 2023: Partners have been consistently selling 100+ cans per day
Social Media Exposure across all our platforms (85,000+ followers)
We support you with marketing, posters, graphics for social media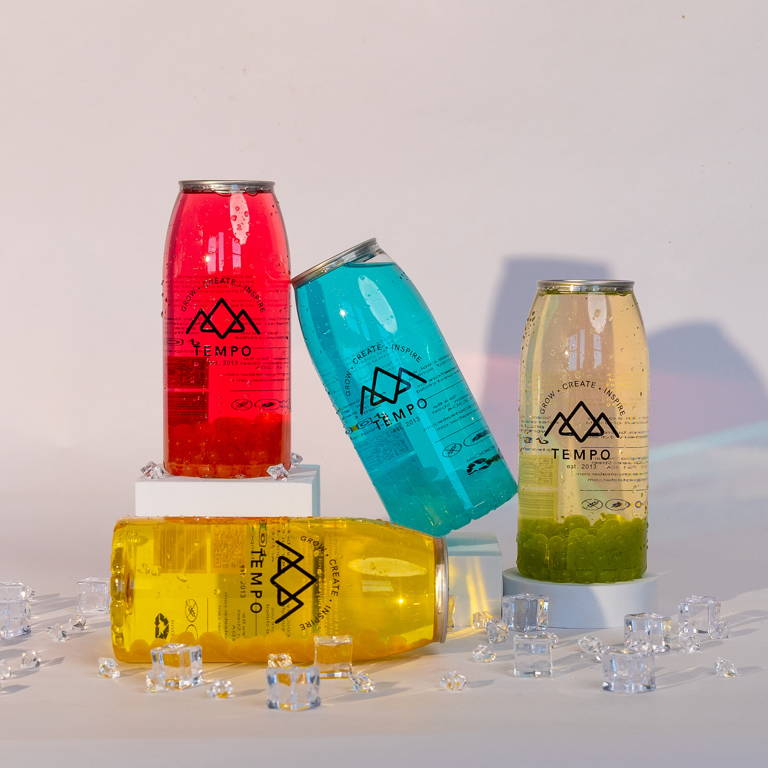 At Tempo, we make our drinks with the best quality ingredients directly shipped from Taiwan, the origin of Bubble Tea. We focus on quality, appearance and the well-being of our customers with boosted Vitamin B and C in all our drinks. We believe which is what makes our brand stand out from the others.
Testimonials from our Partners
Shaheen, Settlers
Tabletop Games and Comic Book Cafe
"You can tell there's real care at the heart of this business: from pricing margins, to how they delicately package the goods to sent to you each time. I'm delighted to work with Tempo as a local partner who not only care but are efficient at what they do for my business.
The business has a creativity that is self-evident by looking at the marketing they put out - marketing they have urged us to be a part of. Working with Tempo has been a breath of fresh air compared to working with larger, unfeeling automata-like companies who do not give as much care or dedication to us as a business.
Thanks Tempo, delighted to be working with you!"
June, The Hi T Company
Quirky Tearoom in Glasgow's East End
"We had been asked for bubble tea many times but we're afraid to try it incase it was too time-consuming or difficult.
Tempo made everything so simple for us by talking us through the process, and agreeing to stock us with ready made bubble teas in a few flavours.
The kids love our bubble teas and Tempo have been so supportive sharing on social media etc.
We can't wait to see what the summer brings!"
John, Comicrazy
Comic Book, Board Game and Trading Card Cafe
"Introducing Tempo Tea had an immediate impact on our business and quickly became a main stay. As the Tempo brand is so strong seen an increase in foot fall from customers who had never been before and still come to this day. Genuine lovely business to deal with and would 100% recommend Tempo Tea to any business out there."
Andy, Loch Lomond News
A busy newsagent with overlooking Loch Lomond
"We really enjoy and appreciate the fast, friendly and dare i say it "Bubbly" service provided by everyone we deal with at Tempo. The product is extremely popular with everyone who buys it, including those trying it for the first time. People travel miles to come and buy it, and with a great choice of flavours who can blame them!"
We always select our best-selling flavours online to sell to our wholesalers:
Red Reviver
(strawberry fruit tea with mango boba) and
Blue Blast
(blue grape fruit tea with lychee boba) as well as a
Special flavour
which we change quarterly.
Pricing for our Bubble Tea Cans
The RRP for our Small (350ml) and Large (700ml) Cans are £4.25 and £5.50 respectively.
Frequently Asked Questions
How long will it take to arrive?
Allow 3-5 working days from the day of your order.

What is the shelf life of your cans?
The shelf life of our drinks are 4 weeks.
How can I reduce risk against shelf life?
If you order larger quantities (min200) - we can break the fulfilment down into weekly/bi-weekly deliveries, with full shelf life, and you will get access to larger volume discounts and stronger margins upfront.
How do I store your products?
Store cool and ambient, but serve chilled for best taste.
What are the nutritional values for your drinks?
Typical Values (as per 100ml): Energy 8kcal, Fat 0g (of which saturates 0g), Carbohydrates 1.9g (of which sugars 1.7g), Fibre 0.06g, Protein 0g, Salt 0.007g (Sodium = Na mg/100ml* = 2.2*), Vitamin B3, B6, B12, Vitamin C